After we already had a session on orange wines at the Vinocamp Rheinhessen last year, where nobody from Rheinhessen was present, I decided – we can do that here too!
So I looked around in Rheinhessen and found a great selection of natural wines from the wineries for the session.
Thank you again at this point!
Definition on Natural Wine?!
First of all, perhaps a definition of the term – what is "orange wine"?
The Weinwisser offers a very precise explanation – therefore here, as far as I have defined it for me in the meantime, the short form 😉
There is no generally valid definition – but there are two principles that everyone can agree on:
Wine from white grapes
Mash fermentation (i.e. on the skin of the grapes)
…and why is it called Orange Wine?
Because of the contact with the skin of the berries during fermentation, the colouring particles are dissolved in the skin and give the wine an orange tone of varying intensity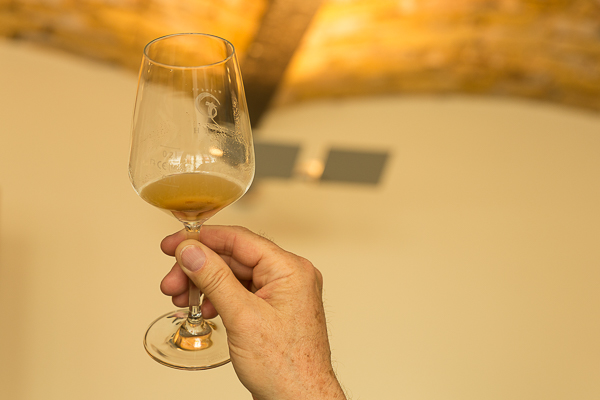 But enough theory – I would like to introduce you to the tasted orange wines.
We had a total of 13 different wines – an exciting selection!
The specialized journalist Joachim Kaiser kindly agreed to jump into cold water, present the wines without prior tasting and taste them together with us.
By the way – we tasted the wines again the next day. If we noticed any changes, notes on this are always included as "note following day" with the wines.
2016 Pétillant Naturel, Sylvaner, Winery Braunewell
Rheinhessen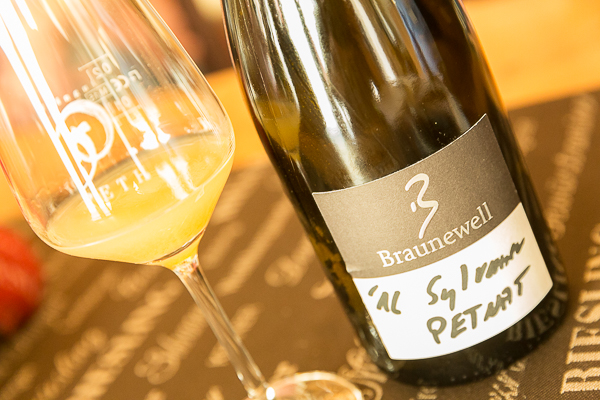 Colour: strong yellow
very much yeast and suspended particles (as barrel sample)
yeasty notes
fresh and fruity appearance
Herbal Tea
Apple peel
"black bread"
meltdown
Note following day – unfortunately not for this wine – because it was empty … too bad!
The well-intentioned advice – please open it very carefully – didn't help at all and a large part of the content was unfortunately distributed in the vinotheque of the Peth Winery. 🙁
---
Flight of two Pinot Blancs – Rheinhessen meets Rheingau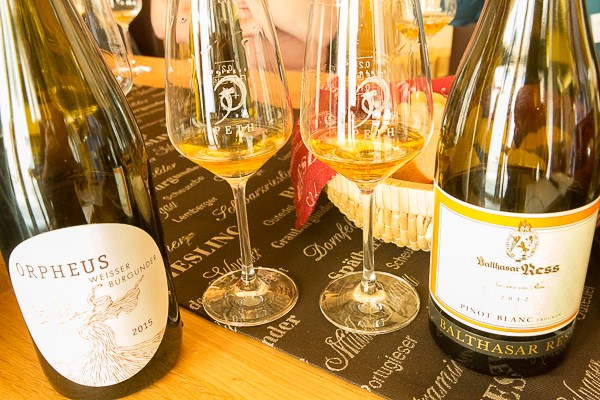 2015 "Orpheus" Pino Blanc, Winery Schmitt, Rheinhessen
Amphora wine
12.5%
Sulphurized
Colour: light orange tone, not quite clear
fruity
present tannins
seems quite young
stable note
some nutmeg
2012 Pinot Blanc, Winery Balthasar Ress, Rheingau
14.5%
Sulphurized
Colour: light orange tone, clear
clear mature notes in the nose
much substance, spicy
wood notes
dried fruit
note next day – a little less spicy, but now a marzipan note
Flight of two Pinot Gris
2015 "Orange", Pinot Gris, Winery Braunewell, Rheinhessen
Colour: strong orange tone, clear
probably very mature grapes, because of the color
clear and transparent in the mouth
subtle wood note
roasted flavours
2015 "Orange", Pinot Gris, Winery Eppelmann, Rheinhessen
Colour: dark, strong orange tone, not quite clear
probably very mature crops, because of the colour
13.0%
sulphurized
spicy
curry
candied apricots
light yeast note
2015 "MG", Pinot Gris, Winery of the City of Mainz, Rheinhessen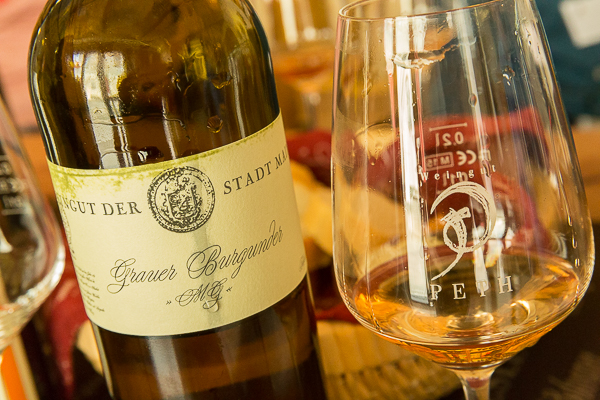 according to the winegrower, he doesn't call it an "orange wine" himself
also has AP number
"MG" stands for mash fermentation
Colour: clear orange
sulphurated
Vinification like Pinot Noir
(eg fermentation in open vats and later in barrique)
light fruit
apple and plum notes
Flight – twice vinery Weinreich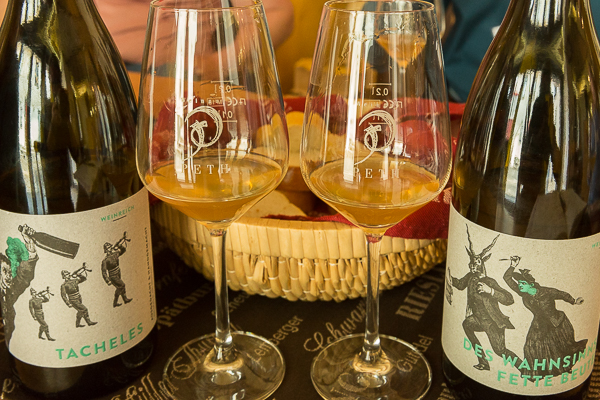 2016 "Tacheles", Bacchus & Kerner, Winery Weinreich, Rheinhessen
Colour: light orange tone, not quite clear
11%
not sulphurized & no additives
six weeks mash-fermented
aged in 500l barrels
clear varietal aromas in the nose
spice notes
ripe apple
fresh notes
2015 "Des Wahnsinns fette Beute", Chardonnay, Winery Weinreich, Rheinhessen
Colour: light orange tone, not quite clear
12.5%
not sulphurized & no additives
matured in 500l barrels – there it still lies 😉
matured for about 18 months in wooden barrels
pronounced fruit aromas
apple peel & pear
apricot jam
slight tarty notes
Flight – barrel sample & very special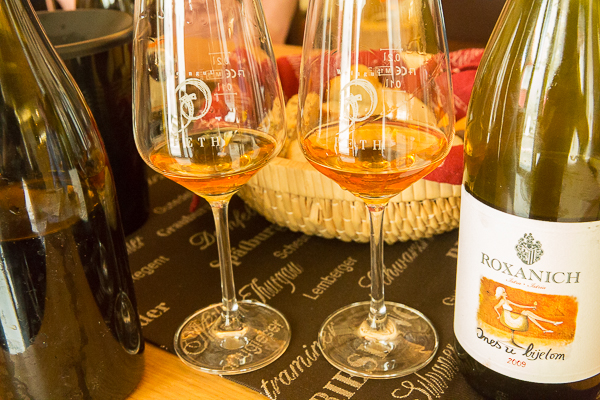 2012, Chardonnay, Winery Engel, Rheinhessen
Barrel sample without label
Colour: orange, clear
harvested highly mature
> 13%
fermented for 5 weeks with rappen
alcoholic
nice spice
apple note
Cognac (nose)
off-flavors – harsh tannins
2009 "Ines u. bijelom", Winery Roxanich (Kroatien)
Colour: strong orange tone, clear
13.3%
Acidic notes – nicely put Ketones & Aldehydes
itchy in mouth & nose
note following day – remained the only unenjoyable participant of the round (Croatia)
Flight – twice exotics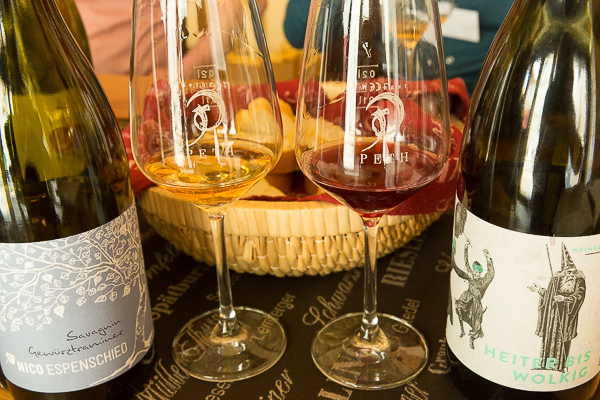 2016 Savagnin & Gewürztraminer, Winery Espenschied, Rheinhessen
Colour: orange, clear
13%
slightly sulphured
slightly mouldy in the nose
is not reflected in the mouth, good drinking
light fruit tones
Carambola & Quince
2016 "Heiter bis Wolkig", Dornfelder & Kerner,
Winery Weinreich, Rheinhessen
"actually" not a real orange wine, because made with red wine grapes as well
Colour: bright red, clear
6 weeks red and white grapes macerated
matured in large wooden barrel
no additives and no sulphur
breaded note
"young wine" character
slightly animal note
pleasant fruit aromas
sour cherry
a really "winy" natural wine
2015 Riesling & Sylvaner, Winery Schwarz, Switzerland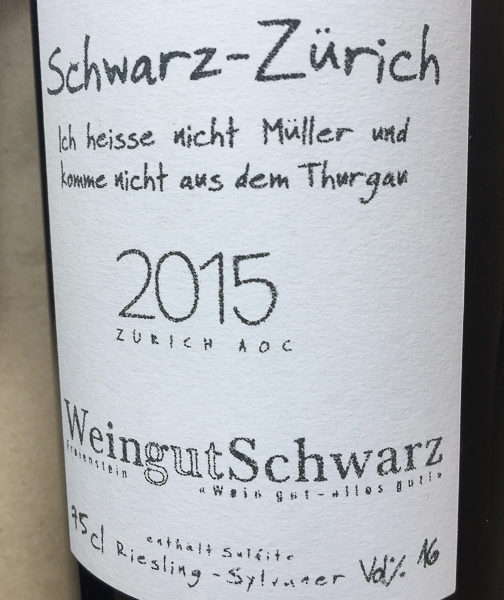 put aside in the "Pét Nat Trubel" while cleaning and forgotten on Saturday 🙁
… but tasted on Sunday 🙂
Colour: quite bright for orange wine
16%
rose and nutmeg
medium yellow fruit
unobtrusive, but very present
good acidity, but melty
Alcohol very well integrated
2016 "Perlen vor die Säue", Riesling & Silvaner
Winery Weinreich, Rheinhessen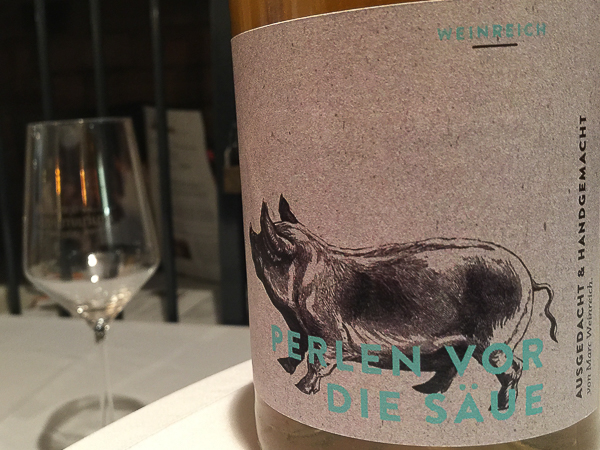 As I am writing the blog post, I realize that this Pet Nat obviously also "must have been put aside in the hustle and bustle" – but we didn't see him again even when we were cleaning up … obviously had found a friend 😉
What a pity, because I had the pleasure to taste him at a
orange wine tasting at the Vinarmarium and it was sooooo delicious! So here is at least some general information, if you ever come across this Pétillant Naturel – try it!
Mash Fermented
with own residual sweetness
pressed during fermentation and filled into sparkling wine bottles to stop the fermentation
spontaneously and without any additives
no sulphur
Pressure of approx. 6 bar
unfortunately no notes made about aromas – but SUPER delicious, I remember that 😉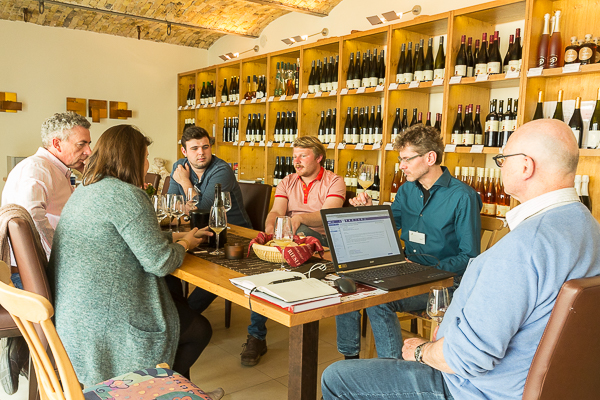 Bottom line:
Orange wine is not for the mainstream – it is simply a complex and unusual taste. But if you get involved, you can have a wonderful and delicious experience!
In my opinion, a sparkling wine, the "Pétillant Naturel", is generally recommended for beginners.
… and as I said – there was only one representative who was really a challenge to taste – and he did not come from home 😉